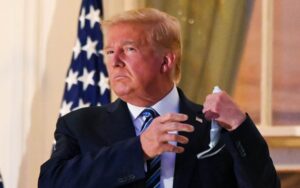 Gotterdammerung!
[Thank you Richard Wagner for the operatic "Ring"]
Let me count the ways
[And a hat tip to Elizabeth Barrett Browning — "Sonnet 43"]
"We're going to have to see what happens"
[Not to be outdone by some 19th century nobodies, 45 in September on election results]
We've come a long way, baby, a long way; and we've got a long way, long way to go.
Peering down the road –60 plus days to go until the second term.
Or the "socialist takeover" by the Deep State!
Not going to happen — saw it on the streets of Washington.
"Trump law and order" read the banner; ah yes, the "Dominate the Streets –Dominate the Battlespace" crowd.
We're out of Afghanistan and on the march across the homeland.
What could go wrong?
It's all about providing for the "common defense" and promoting the "general welfare."
Remember before February, how that was done — with ease.
EXECUTIVE ORDERS!!!!!!!
Until the hand-wringing, woe-is-us crowd rose from the swamp.  Still got work to do on that bunch. Everybody is sick of them.  Did a lot a good to run on that, didn't it!
So casting aside Iran, Schmran, fissile, fossil, fusion, MAXIMUM PRESSURE!!!
Maduro, Schmaduro, again, MAXIMUM PRESSURE! [Ya know "his" people really helped in Florida; made a YUGE difference, YUGE!]
Hangin'  on to Kim's "Love Letters" in the Sand — Pat Boone's greatest, really — do you know the A-Side was "Bernadine," a two-fer?
That's what Make America Great Again is all about — White Buck shoes [catch the pun]!
Now it's Keep America Great!
Security, schmcurity, the second term transition is moving merrily along.
So to all those who mailed-in ballots and chanted "we don't trust anybody over 30" 50 years ago, I give you body man, trick shot QB Johnny McEntee sweeping out the old — anyone in a Pentagon job for more than six months with something other than "acting" for a title– and bringing in the new.
30, baby; 30, baby!  Johnny, only 30.
Lot more swampy places on THIS side of the Potomac.
Loyalists to the Core — Ever Trumpers!
"Common defense" — off the list.
On to "general welfare."
Covid, Covid, Covid!!!!
FAKE NEWS!
Look at the "your favorite president."  Three days in the hospital; back on the job; hitting the links!
Told you we'd have a vaccine after November 3.
Everybody agrees would've been here earlier if Pfizer hadn't connived with the FDA and "the Resistance."
TRAITORS!!!!!
And Jim Atlas, what a man, what a man,  physician for a nation.
"Rise up," Michigan; Wise up, dump "that woman!"
Long Guns to Lansing; Long Guns to Lansing!
Lock downs, schmock downs!
"LIBERATE Michigan! LIBERATE Minnesota! LIBERATE Virginia and save your great 2nd Amendment!"
Open up!!!!!!!!!!!
OK, so on to the "promoting" stuff — "big and focused," "big and focused!"
Like "Ivanka's stuff" or Trump National for the blatherers, but if we add Vladimir, worth it; worth it. That's "promoting," that's "branding."
Damn Chinese virus; wrecked it, wrecked it!
Still and all ready to Sharpie that stimulus package, if it's "big and focused" — checks will flow; checks will flow — except to sanctuary cities, counties, and all localities in Blue States.
That's laser-focused on  jurisdictions "permitting anarchy, violence, and destruction." All were clearly  outlined in September memorandum from the  caudillo, el jefe.
Next!!!!
So the government runs outta money next month.  Who sez?
Tell me, really seriously, who missed it when it was shut down a coupla years ago?
None of the Deep Staters are coming into their offices anyway now. We don't miss 'em. This time, we don't pay 'em.
Many people say at Bedminster, Mar-a-Lago, "why bother?"
So all you have to do is look at the map.
Unbelievable, the amount of red.  Unbelievable. Seventy-one million love me.
And more coming every day.
Health care plan before the next State of the Union.  Wonder if "Crazy Nancy" pull another stunt? She'll be "fired" after the mid-terms.
"I concede NOTHING! We have a long way to go.  This was a RIGGED ELECTION!"
and
"I WON THIS ELECTION BY A LOT!" over the "worst presidential candidate in the history of presidential politics."
[Celebrating another golf weekend, Dear Leader Saturday in a two-fer before the Million Man MAGA March and "worst" coming from September rally in Michigan]
"Antifa SCUM ran for the hills today when they tried attacking the people at the Trump rally, because these people aggressively fought back."
[Battle damage assessment from DJT on repulsing strikes against "innocent MAGA people."]
"DC police, get going — do your job and don't hold back!!!"
[The FRAGO — Fragmentary Order from 1600 Pennsylvania Avenue NW over who's in command; no confusion as there was before the Battle of Lafayette Square and the Liberation of St. John's.]
What could go wrong?
Gotterdammerung!