"Well Now, I've Seen Everything"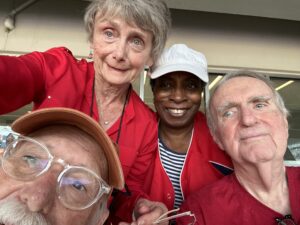 Not Really But a Walk-Off, Two-Run Error
and THE Trophy from That Championship Year
Doesn't Happen Every Day!!!!! I Love Milwaukee Fielders!!!!
[Brewers on Defense Gave 'Us' the Game and a Championship]
With friends Larry and Jacki Moffi, Lillian and I spent a gorgeous August afternoon in Nationals Park. Yep, "they're dancing at Nationals.'" A wild throw to home by the Milwaukee third baseman on a sure-fire force at the plate and possibly double play that would have stifled a ninth inning come-from-behind rally.
[Lotta hyphens in sports writing!]
The "rally," if you could call it that, started by a first baseman's error on a grounder, aided by an OK single, and walk to load the bases with nobody out.
With the catcher scrambling for the throw, bobbling the ball when he picked it up, and throwing low and wide to the pitcher covering, the walk-off run slid head first for the win.
Two runs, one error — Little League.
And as for THE CHAMPIONSHIP, if the Brewers' rookie right fielder hadn't tried for a heroic play, a hard charge to grab on the run a sinking line drive and then throw to cut down a runner in the 2019 wildcard playoff, Milwaukee likely would have held on to advance.
The ball went under his glove and everyone on the bases was off to the races.
First rule in Little League: No "heroic plays," with the corollary no "heroic throws."
Three runs scored in the bottom of the eighth on that play. Final, 4-3.
Howie Kendrick, MVP for the game and remembered always for hitting the clanger off the right field foul pole in the "seventh and deciding game of the 2019 World Series" in Houston.
Winning pitcher in the playoff — Steven Strasburg; MVP in the series, Steven Strasburg.