The Summer of Our Discontent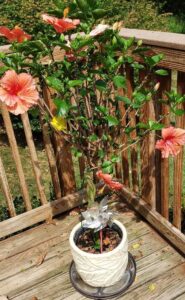 With only two weeks left, 2023's season around the manse has seen only one proud hibiscus on the deck, overlooking the estate's forest. This is in sharp contrast to previous years.
The other was a victim of winter bathroom remodeling.
More sadly, 2023 has been the year in which
no monarch butterflies or bees were seen during the day,
nor any lightning bugs as dusk passes to night.
Hummingbirds seen, but scarce.
The sole note of consolation: "Our Nationals" will NOT lose 100 games in baseball's long campaign from late winter to late fall.