The Odds Are. … USPS Delivers a Geek's Delight Daily Double, Almost a Trifecta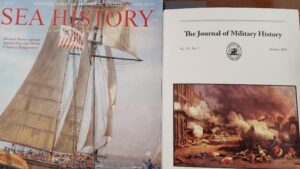 So in the greater scheme of things, like choosing a Speaker for the House of Representatives or almost any other thing you may think of, having two publications — both quarterlies, arriving on the same day as indefatigable Kevin McCarthy received the gavel, contained not one but two pieces I wrote.
The first a letter to the editor of the Journal with a response from the author of the piece on Henry Halleck, once commander of the Union's armies, that I was commenting on. The second was a book review for Sea History on Michael Verney's "A Great and Rising Nation."
The link to Military History is code protected, but here is the one for Sea History, the review begins on page 60 on an important new work on a key aspect of the American past.
Now if only, my article on a Confederate ship hijacking of a steamer en route from New York to Boston to be published in the spring issue of Civil War Navy appeared at the same time, I would have had the rarest of rare — a trifecta in quarterlies.
Still, it was a day to warm this geek's heart.