The Hunt for Christmas Tamales — Have to Beat the Magi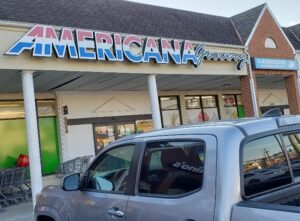 I was introduced to Christmas tamales in 1975 when my Texas-ex fiancée [Anglo but from Corpus Christi] began working with masa harina, with corn husks on the counter, and chicken, black beans [canned, I think], chiles [canned, definitely] on a kitchen  table several days before December 25.
When I asked what was she doing, the answer was: "Making Christmas tamales; you have to eat them for good luck in the coming year." While I knew what tamales were [though I still prefer enchiladas], I didn't know that if you eat them sometime between Christmas Eve and Epiphany [or Feast of the Magi – January 6], they would bring good luck.
Nor did I know where in Newport News or on the Virginia Peninsula, she would find all the ingredients – especially the corn husks.
To say this was a labor intensive effort would be way off the mark, but the tamales were ready for serving Christmas day.
[Kudos to the Washington Post food section this week on Pati Jinich's how-to on preparing tamales.  Still too labor intensive for me.
Pati Jinich's tamales celebrate Mexican culture, cooking and community – The Washington Post]
I have tried to continue the tradition – eating, not making.  My preference remains with the chicken and black beans as second choice; frozen, thawed, and cooked is fine by me, not a purist, purist.
Everyone needs "good luck."
Luck definitely was not on my side in the hunt in 2022.
Struck out at Safeway, Giant, Wegmans in run-throughs beginning in mid-December.  When I pointed out to stockers – and managers, their store map on the phone app says they have tamales in a certain aisle in frozen food.
"We'll re-order; stop by tomorrow." [Give me a break; that's customer service.  The legendary Izzy Cohen who made Giant the dominant supermarket from Northern Virginia through Baltimore is certainly flipping over in his grave with the "stop-by-tomorrow" response.]
Tired of running around from Kingstowne to the far reaches of Fairfax and frustrated – no tamales, in hand with time running out, I stopped at a Mexican restaurant. The greeter said sure they have tamales and understood why I was looking for them, but they would be pricey.  She suggested – quietly, going to the Americana Grocery up Main Street in Fairfax City.  "To your left, a Dominos is nearby. Same shopping center.  If you get to the Aldi, you've gone too far. Two miles."
Got there about 4:30 p.m.; butcher manager led me to the place where they are made and sold only to discover the 300 plus Mexican and Salvadorean tamales that are brought in each morning before the 8 a.m. opening were probably gone by 9.
Christmas rush, you know.
Oh man!
The only thing to do was use the COVID answer to everything – order online. My choices: Tucson Tamales – introduced to me by my daughter, or Texas Tamales.  Prices were about the same for the order, but they certainly wouldn't beat Santa Claus
Have my fingers crossed, the delivery from Texas beats the Magi.