So The Longhorn Ain't Bevo, But…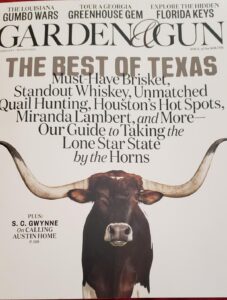 Yessirre, An Issue Devoted to Many Things Texas.
Now if only Garden and Gun, explained the old "Drive Friendly" signs or the "Don't Mess with Texas" mentality, it would have been truly insightful.
For all you Texas Ex's l, currently removed , or possibly recently arrived, you know Bevo is the live mascot of UT Austin ["keep Austin weird" at least from Janis' time there] and has a burnt-orange and white coat.
The Longhorn is not to be confused with the Santa Gertrudris on the King Ranch that extends over a swath of South Texas. Horns are nowhere as large.
Longhorns also look particularly menacing on the grill or slightly above placed on oversized pick-up trucks.