On Being a Hotdogger– "everyone would be in love with me."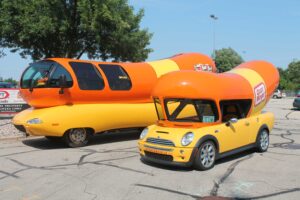 Kudos to the Washington Post travel section on "life as a hotdogger" — driving the Wienermobile. A dream job, like piloting a Zamboni around NHL rinks.
I was triply blessed to have Frank Papp as my coach in the always tough Brainerd-Beverly Little League and even more competitive Brainerd-Beverly Babe Ruth League on Chicago's far Southwest Side. The triple blessing came from Frank's daytime, weekday job. He was a district sales manager for "Chicago's own" Oscar Mayer.
And you betcha, as sure as the LL marchers appeared in the Longwood Drive Memorial Day parade, Frank had the Wienermobile stop by for a full afternoon of 9- to 15-year-old baseball action. [The under 9s played in the morning Minors]. On All-Star announcement Saturday, last game of the Little League season, the traffic-stopper with free hot dogs for everyone in the neighborhood was there. Not the little one as shown in the picture, but the full-size mid to late 50s Wienermobile. [No tail fins, sadly.]