Gone the Way of the Wind: The Slpashot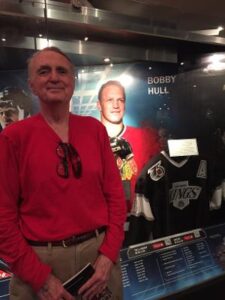 I had to pose by the Hockey Hall of Fame's recognition of the "Golden Jet," Bobby Hull. In the late 50s and well into the 60s, he personified the player with the deadliest slapshot in the game.
Bobby was the first NHL player to score more than 50 goals in a season and also to lead the Hawks out of Stanley Cup oblivion when I was in high school.
On city park ice and frozen over prairies [vacant lots in Chicago], I practiced and practiced and practiced my slapshot. When I see Tom Bowman on skates with a stick, I'm sure he's working on Bobby Orr one-timers from the point.
I couldn't begin to count the number of sticks I sacrificed in "perfecting" my shot.
To learn from the Athletic, that skill is no longer necessary was saddening. The story at least quoted Bobby's son, Brett, as to why this tool is no longer used was demoralizing.
The story: