Before Donning Sack Cloth — With Your Ashes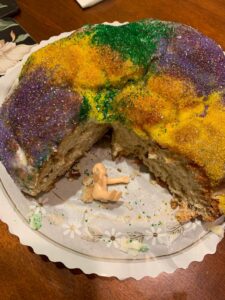 We found "The Baby" in the King Cake on the second slice.
Slightly more than 24 hours after picking up the King Cake from Heidelberg Bakery in Arlington, Lillian's slice contained the Baby King.
[Obviously, she will host the next pre-Lenten party.]
The cake was picked up precisely two weeks before Ash Wednesday.
To prepare you for the Bacchanal before 40 days of repentance — with fingers crossed behind your back], we leave with Big Chief– Dr. John, Professor Longhair, and the Meters.