Another Life Time: Chasing a Tropical Storm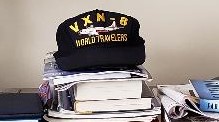 A Washington Post story on NOAA's P-3 "Hurricane Hunter" being grounded as Idalia came ashore reminded me of my one day flying with the Navy's VXN-8, an oceanographic development squadron.
So I brought out the ball cap given me by the crew for flying with them into a tropical storm 30-plus years ago.
Taking off early on that Monday morning, the "World Travelers'" P-3 was gathering meteorological and oceanographic data on a storm, whose name I've forgotten, moving up the Atlantic Coast. It was several hundred miles south of Bermuda and we were in southern Maryland.
Having been on "storm-tossed seas" and now semper paratus for "angry heavens," I had taken dramamine well before the scheduled take -off.
Most of the dozen or so aboard that P-3, a four-engine propeller-driven tough aircraft, with me and Steve Elder, a Military Times photographer, were civilian-scientists. The flight crew was Navy.
The scientists went about their business — constantly dropping probes for wind direction and speed, barometric pressure, humidity, and temperature. What they were gathering from the ocean I don't remember.
So how rough was this flight into a tropical storm?
Very bumpy for an hour or so, but we weren't being tossed around. I had and would have far rougher flights in thunderstorms on commercial jetliners. I certainly had a more spine-tingling flight in such dense fog in Romania the plane was waved off from landing as it entered final approach.
The pilot was ordered to continue on to Munich, my destination. I counted myself doubly lucky that morning.
Until 1973 when it was "disestablished," the squadron flew its P-3s out of NAS Patuxent River, Md. I asked before taking off where would we land in case of trouble: NAS Jacksonville, Florida, a very long way from my home in Northern Virginia and probably stay at least overnight.