All Aboard — A Drag Show; Some Like It Hot — 1959 Billy Wilder Style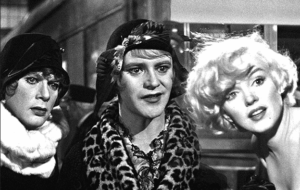 So last night as the Canadian wildfires momentarily took a smoke abatement break over the Manse, we invited Messrs Lemon and Curtis to perform with Ms. Monroe for a little less than two hours.
No, we wanted Drag perfection — in living B&W, not Bob Hope 20 years earlier, a Korean version later, and certainly not a Broadway musical extravaganza [hey, an "all-girl band" is critical to the story, already].
With the action split between lovely Chicago, picture perfect Elliot Ness Untouchables' style, and sinful Florida, before its recent cleansing, we laughed and cheered.
[Wilder's best "Florida touch:" San Diego's Hotel Del Coronado transplanted cinematically to the "Sunshine State."]
As Joe E. Brown says at the end when Lemon reveals himself as a man: "Well, nobody's perfect" and off they sped to his yacht.